A–Levels are the most common study route for students after GCSEs (post-16), especially if you are looking to go to university. Students usually study an AS (Advanced Subsidiary) Level in the first year of study. After you have completed the AS-Level, you can leave college with this award, or continue your studies by completing your A2. You will then receive an A-Level Award.
AS-Levels usually take one year to complete full time and an A-Level takes two years full time. Most students will study three or four A-Levels, depending on university or career choices afterwards.
Structure of AS-Levels and A-Levels
A-Levels are Level 3 on the National Qualifications Framework, between GCSEs at Level 2 and the first year of a degree (and other qualifications) at Level 4.
A-Levels contain units and depending on the subject, there will be a set number of units to complete. Most A-Levels contain four or six units. All AS-Levels and A-Levels have to meet national guidelines for content, this is why, even across different Exam Boards, course content can be very similar.
Assessment of AS-Levels and A-Levels
Most AS-Levels and A-Levels use exams as the main type of assessment. Your college will tell you when exams are, as you can only sit them at certain times in the year. Some A-Levels may require essays or practical work such as projects and design pieces as part of the assessment. All work needs finishing to the required standard to pass the unit/award. The Exam Board usually sets deadlines for work and exam dates and when you start your course, you will be told about deadlines.
If you have a disability or any condition that may cause difficulties with studying or sitting exams, then it is important that you let your College or Sixth Form Centre know as soon as possible.
If you fail an exam, or want to re-sit for a higher mark, then there is a re-sit opportunity and your Sixth Form or College will let you know when this is available.
Grading of AS-Levels and A-Levels
When examiners mark exam papers, they mark with 'raw marks'. These raw marks are converted to a uniform mark scale (UMS). This is a range of marks for each grade and when a unit is marked out of 100, the UMS mark range is:
| | |
| --- | --- |
| A* | 90+ |
| A | 80-89 |
| B | 70-79 |
| C | 60-69 |
| D | 50-59 |
| E | 40-49 |
The UMS marks for each unit are added together to give an overall UMS mark. An AS-Level is scored out of 300 marks and an A-Level out of 600 marks and you will see the UMS numbers on your results slip.
The grade at which you pass an AS-Level and A-Level has a tariff, known as a 'UCAS Tariff' attached to it. This UCAS Tariff is used by UCAS (Universities and Colleges Admissions Service) if you want to apply for a place at university. Most degree courses will request a certain tariff for you to be considered for a place on that course.
UCAS Tariff:
| | | |
| --- | --- | --- |
| Grade | AS-Level (points) | A-Level (points) |
| A* | / | 140 |
| A | 60 | 120 |
| B | 50 | 100 |
| C | 40 | 80 |
| D | 30 | 60 |
| E | 20 | 40 |
| U (unclassified) | / | / |
Some students choose to 'cash in' unit marks into AS-Level or A-Level grades. This is done by letting the Exam Board know, usually in September. Your teacher will be able to explain more about 'cashing in' as you may be able to re-sit some of your assessments and reapply to 'cash in'.
If you would like to learn more about marking and 'cashing in', here is an overview of marking for students.
Preparing for AS-Level and A2 Exams
When you revise for AS or A-Levels it is not just about reading class notes and memorising. You may want to revise with a small group of friends and you should always take advantage of extra revision sessions that are available at your College or Sixth Form.
Look at past papers that are available on Exam Board websites, this will let you see what sort of questions may come up on the exam as well as helping you to get used to how questions are worded. Nearer your exam, you can then practise writing full answers on these past papers and check your answers against your notes, or ask your teacher to have a look at the answers.
There are usually textbooks available for your course and these often have revision sessions and past/mock exam questions included. There are also many revision websites available for students, such as:
You will also find a variety of subject-specific revision resources listed under your AS and/or A-Level subject choice.
Costs of Studying AS-Levels and A-Levels
There is usually financial help available for students of all ages to study AS-Levels and A-Levels at College, such as help with transport costs or learner support funds, although you may wish to check with your Sixth Form or College as to what is available.
If you are aged 16-19 and do not need to pay fees to do your AS-Level or A-Level, you may still need to buy books and contribute towards field trips or any materials that are necessary for your course. You may also have to pay re-sit fees if you choose to re-sit exams.
For learners who need to pay fees, colleges often set their own fees and it is important to check the amount before you start your studies.
Choosing Which AS-Levels and A-Levels to Study
If you are looking to study a particularly course at university, you may want to see if specific A-Levels are required before you start at Sixth Form or College. Your careers or local Connexions advisor can provide guidance and the Careers Helpline for Young People is available on 0800 100 900.
If you are an adult learner considering studying A-Levels, then Next Step (0800 100 900) can provide career guidance.
This service allows you to search for 14-19 prospectuses by postcode, or town that you live in, so you can see what A-Levels are available locally for study.
Other Courses
There are still many other types of courses available after your GCSEs, such as NVQs, Diplomas, Apprenticeships and the International Baccalaureate.
AS-Level and A-Level Awarding Bodies (Exam Boards)
Six Exam Boards offer AS-Levels and A-Levels in England, Wales and Northern Ireland. All of these Exam Boards design award specifications that clearly show what you will have to learn to pass the award.
AQA (Assessment and Qualifications Alliance) www.aqa.org.uk
AQA is an educational charity and one of the leading providers of A-Levels in England, Wales and Northern Ireland. Their qualifications are also taught in 44 countries across the world.
CCEA (Council for the Curriculum, Examinations and Assessments) www.ccea.org.uk
As well as awarding A-Levels and other qualifications, CCEA also advises the government in Northern Ireland about education and they monitor standards.
Edexcel www.edexcel.org.uk
Edexcel is a Pearson Company and the largest awarding body in the UK.
OCR (Oxford, Cambridge and RSA Examinations) www.ocr.org.uk
This is the only major Exam Board still owned by a University, managed by Cambridge Assessment.
WJEC (Welsh Joint Education Committee) www.wjec.co.uk
WJEC is a registered charity and owned by local authorities in Wales. They offer a wide variety of qualifications and support students with learning Welsh.
6.       University of Cambridge International Examinations (CIE) http://www.cie.org.uk/
This is a sister organisation to OCR and is managed by Cambridge Assessment. Although many of its students are international students, it now offers a wide selection of A-Levels to English, Welsh and Northern Irish state schools.
Regulation of AS-Level and A-Level Awards
All Exam Boards are regulated to ensure that the A-Level awards meet national standards and that students receive a fair deal. There are three regulatory bodies:
Regulatory Authority for England – Ofqual (Office of the Qualifications and Examinations Regulator) www.ofqual.gov.uk
Regulatory Authority for Wales – DCELLS (Department for Children, Education, Lifelong Learning and Skills) www.wales.gov.uk
Regulatory Authority for Northern Ireland – CCEA (Council for the Curriculum, Examinations and Assessments) www.ccea.org.uk
A-Level Statistics
In 2011, 1411,919 students sat AS-Levels across all subjects in the UK. The chart below shows all pass grades: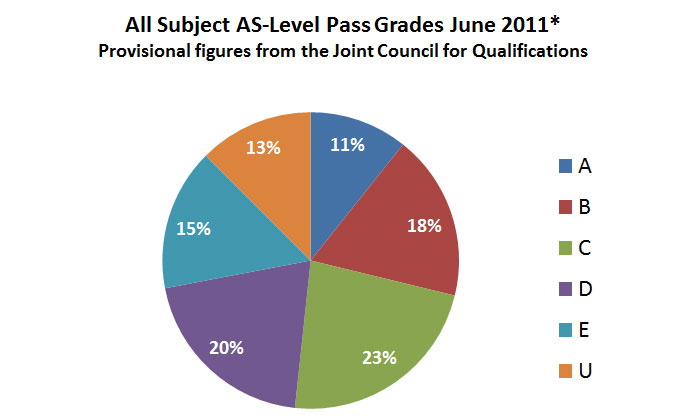 In 2011, 867,317 students sat A-Levels across all subjects and the chart below shows all pass grades:
This table shows the percentage of students achieving grades sorted by school type in 2011:
The following table shows grades achieved by English schools grouped by region of the country:
Other Useful Information